Looking for welcome mat? Well, you aren't going to find one at my door 'cuz I ain't a liar…
Looking for welcome mat? Well, you aren't going to find one at my door 'cuz I ain't a liar…
Listen, I'm probably the most social person you're ever going to meet. But at the end of the day, when I get home, I am HOME. I'm not answering my door. Hell, I'm not even going to grace you with a "Who is it!" So don't bother knocking even if the house AIN'T rocking, because I'm NOT coming to the door. You're not welcome…
And some of you fuckers are persistent! Some jackass comes knocking on the door the other day. He knocks. My dogs go nuts. And mind you, I have big dogs and they are ridiculously loud. He waits 2 minutes, he knocks again. And what happens? One more minute and he starts banging. It's taking everything I have in me not to open the door and slap the snot out of him since it's Sunday, AND I was sleeping.
I go to check my camera, it's some guy, and he's now standing in front of my car staring down the block. He's got a clipboard, and a bike. He now proceeds to stand in front of my vehicle for a good 5 minutes. He comes back and he starts knocking again!
At this point, I'm ready to let my dogs loose in the yard so that he can see 300 lb of love snarling at him, because now he's opening my glass door and knocking. As I get ready to let the dogs loose, which I don't want to do because then he will know that I am home, as if he doesn't already, he retreats. I'm not going outside, because he's already been here at this point for like 15 minutes.
So now I'm going through my head, okay, all of my bills are paid, nobody's coming to shut anything off… I live in a fairly remote area, nobody's knocking on my door for anything. About an hour later when I go to leave, I have what looks to be an "I was here" census note. Except for one thing: Census was already here weeks ago… And I don't think there are any census people showing up on a bicycle. (did I SAY you're not welcome???) But I must digress…
Many, many of these people are a SPECIAL kind of stupid. Sometimes you get to have fun with them! When you're having a particularly crazy day, or somebody's dumb enough to wake you up on the only day you have to sleep in, well, they've kind of got it coming to them. And yes, I know I'm going to hell in gasoline panties for telling this one…
One weekend many years back, when people weren't so crazy, I had a few friends over. Sunday morning, 7:15 a.m. . Bang bang bang bang! on the door. At this point we haven't been asleep for 3 or 4 hours, we were doing shots til what time. Everybody's bleary eyed and cursing under their breath. Now, there aren't too many people that are knocking on your door at 7:15 a.m., least of all rapid banging.
As we're all going "WTF?!" My friend's boyfriend gets up, says there's only one person that would be banging on a door this hour of the morning on a Sunday… He goes to answer the door, and it was three Jehovah witnesses, with a briefcase and flyers in hand. They ask him if He needs redemption? So he says no thank you and goes to close the door. They start banging again. And again. I'm honestly wondering if I should call the police at this point. And the way my head is pounding, I'm wondering if I'M the one who needs redemption…

At this point, my other friend's guy gets up and says, "Let me do this." He goes to answer the door, nice as pie. The three of them look at him and ask him if HE needs redemption. He says, "I don't know, do I???" As they start to lecture him that he "needs to repent," he agrees, looks them all dead in the face, and one by one starts stripping off pieces of his clothing. He's standing there, in the doorway behind the screen door and he's stripping his clothes off in front of them.
We're all sitting in our places, mouths agape, and at this point we're ALL praying for redemption, because as we all collectively hold our breath, he strips off his last piece of clothing. At this point, he's standing there, bare ass naked in ALLLLLLLL his glory. All three of their mouths were now wide open and there was dead silence. And Mr. Redemption just looked at him and said, "You need help…" And as they all went to walk away, he then waves goodbye and yells, "Byeeee!!!! Pray for meeeeeeeeee!"
And then I went to church.
For redemption…
Now, there's only one person, actually two, that I have answered the door for recently, and it was almost better than sex!
(And that's a pretty high bar, believe me.)
It was two Democrats trying to solicit a vote. At my house? Really? Seriously?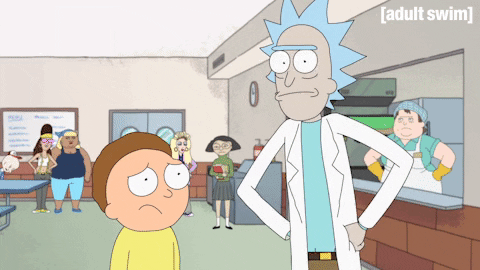 Both of my trucks and my house each all have an American flag, a blue line flag and a Trump 20/20 flag of various types. Like, "Trump 20/20, no more bullshit." "Trump 20/20 (with two middle fingers) because f*** you that's why," stuff like that. I answered my door with my "Women for Trump" hat on and proceeded to school the dopey bastards…
Good times! Good times….
So anyways, if you have any intention of coming over un-announced, well, please don't. Because if I don't know you're coming, well, I'm not opening the door.
Thank you
You're not welcome…